Are there certain topics that you dread teaching? It's okay to admit this! I'm sure all teachers have some components they do not enjoy. Honestly, what really matters is how we overcome these feelings to create amazing lessons. For instance, teaching nonfiction text structures was the topic I struggled with. I could not understand why students did not comprehend them. Then, I suddenly realized I did not learn about text structures in school! I also realized I did not really know why they were important. I couldn't expect students to understand the material until I took the time to learn about text structures. Once I realized their importance, planning became fun! Now, I am so excited to share my text-structure mini lessons with you!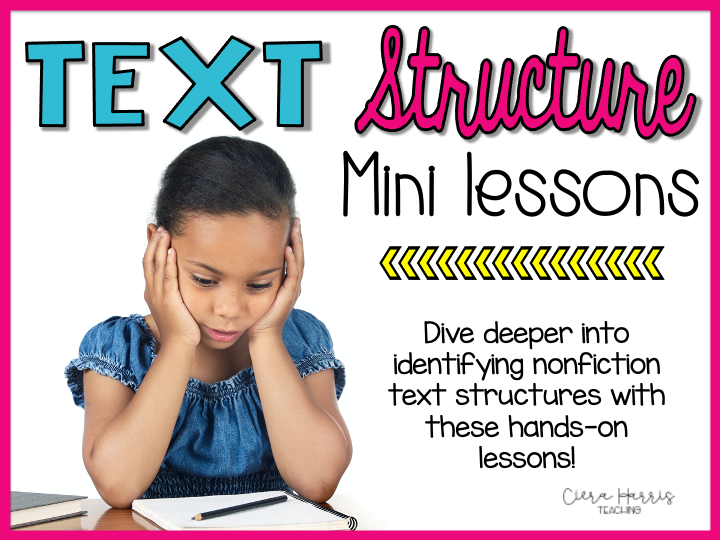 Nonfiction Text Structures 
Nonfiction can be hard for students to understand! Thankfully, the text structure mini lessons help students understand the purpose of nonfiction texts. Learning about description, cause and effect, and compare and contrast allow students to understand the structure to grasp the meaning further. Luckily, the same is true for sequencing and problem and solution. 
Mini Lesson Ideas 
Since there are multiple nonfiction text structures, it is crucial to develop numerous lessons. There is simply too much vital information to learn at one time.
#1: I Can Relate Main Idea to Nonfiction Text Structure 
Surprisingly, many nonfiction texts have a main idea related to the text structure. Yes, this means that when students are looking at the text structure, they can also work on main idea! 
It is so helpful for students to complete an activity where they see this connection. So, I love to start with two stacks of index cards. On one set, I put at least three facts on each card. This can be any topic! However, the facts do need to showcase some kind of text structure. For instance, this may be facts comparing and contrasting different animals. Then, the other index card has the main idea. You will repeat this process for multiple cards. You've now created a matching game with an added twist. To play, students will pick a fact card and decide which text structure they believe it showcases. Students can then match the main idea card to it. 
Get This FREE Mini-Lessons on Text Structure
Honestly, this activity is an excellent way for students to see how authors organize facts in a certain way! Students have great discussions as their minds start to see the connection between main idea and text structure. 
For added challenges and twists to this fun activity, check out Text Structure and Mini Lessons Video! 
#2: I Can Write Nonfiction Text in a Given Text Structure 
One of the best ways for students to immerse themselves in a skill is to apply it. So, students will now become authors in their text structure mini lessons. 
Students will work in groups of 4-5. Base this amount on the number of text structures you want to work on. Then, each person in the group has a different text structure. For instance, Student A is compare and contrast, Student B is cause and effect, and Student C is problem and solution. Students will then write one paragraph about any nonfiction topic they know about. So, this may be a problem and solution paragraph about a dog having accidents in the house. The student will explain the problem and then provide solutions. After everyone finishes, each member will read their paragraph. They will then discuss if the paragraph matches the text structure. This is such an incredible way to get students collaborating while discussing text structure! 
As an added element, students can even share with the whole class. For example, each group can pick one paragraph to read. Then, the entire class can identify the text structure and discuss the reasoning behind their response. 
Once students are ready to apply their knowledge to nonfiction books, the Mentor Texts: Text Structure provides incredible options! 
#3: I Can Illustrate the Five Nonfiction Text Structures 
Students of all ages love to color! To begin this mini lesson, it is essential to show students how text structures are relationships among facts. So, each student receives a piece of paper and crayons. They need to create 5 sections on the paper. The teacher will state a text structure. Students receive a set amount of time to draw a picture representing the text structure. For example, the teacher may call out compare and contrast. Then, the students draw two types of penguins, bears, or dogs in one of the five sections. Students will then highlight or mark some type of difference. 
When creating text structure mini lessons, it is so helpful to bring in different learning preferences! This activity is a great way to bring in a hands-on, artistic element to help students understand the material. Then, they can visualize the text when reading and see which box the material fits in. 
Since students love to color, they will love to Color by Text-Structure! This incredible resource contains so many activities to help students understand the content. Additionally, the activities show how text structure improves comprehension. There are multiple passages based on text structure, graphic organizers, comprehension questions, and an assessment! 
#4: I Can Sort Nonfiction Texts Based on their Text Structure 
It is helpful for students to use real nonfiction literature to see the different text structures. For this mini lesson, find 20-30 nonfiction books with the main text structures students are learning. Then, put students into groups and give each group 4-5 books. Students should scan through the books to examine the text features, titles, headings, and other helpful information. After a small group discussion, students should write the text structure on a sticky note and place it on the cover. This discussion is an incredible way for students to pick out key aspects of each text structure! 
When it comes to knowing if you're students have "mastered" this strategy, plan to spend a few minutes one-on-one. During this time, ask your students to share what visuals come to mind from the text they are reading. This will provide helpful data on which text structures students struggle to identify. 
Teaching text structure can be exhausting! Many times, it is like teaching students a foreign language. Thankfully, these text structure mini lessons will be sure to liven up lessons. Students will love these activities and be eager to apply their knowledge to nonfiction books. For additional helpful tips, check out Get the Most Out of Teaching Nonfiction Text Structures. Students will show much growth between the text structure mini lessons and extra tips. 
If you do not want to miss any of the upcoming lessons, join my email list to be notified of all the interactive lessons coming up! By joining the email list, you will receive a Text Structure Mini Lesson FREEBIE for blog-exclusive subscribers!